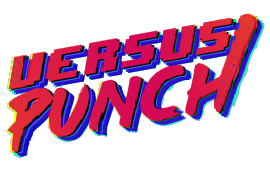 VersusPunch
A downloadable VersusPunch for Windows
VersusPunch takes places in 198X, Two brothers who love fitghting went both accidentally back in time for even more fights
This game needs two players with two controllers.
EPILEPTIC USER be careful, there are flashes.
HOW TO PLAY :
Left stick to move
A to jump
X to attack
LB to dash (upgrade)
X to shoot (gun upgrade, only one shot each round)
X to throw (grenade upgrade, only one grenade each round)
Credits :
Music : Extra Terra - Retrobot
Alexis Bourgois : Game Dev.
Axel Louarn : Game Designer, DA, graphist.
Nathan Coisne : Background Artist, vfx artist.
Pauline Callenaere : Chara design, animator.